I went to a gentle yoga class today after months of not practicing it. I thought I would never be able to catch up with the flow and do the poses but I surprised myself. I learned that if you breathe and slowly do the pose almost any body type can do it. Yoga is about finding flow and appreciating the moment as you find it. Slowly conforming one's body into the pose and following your breath helps you enjoy yoga more. Like yoga, I practice writing slowly. I used to be a deadline-centered journalist. But when writing fiction and poetry, I slow down and focus on themes, language, characters, and pathos in the story. I first learned to edit while writing poetry. Good poetry takes multiple drafts to find the right words, to make meaning out of language. Now, when I write copy for a client or a feature story, I pull myself back and think about what fiction and poetry has taught me. I'm still learning to find flow in my writing practice, revising it with each writing project. I suppose we're all just beginners.

If you have a creative practice, tell me about it in the comments.
Powered by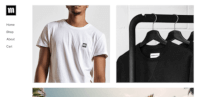 Create your own unique website with customizable templates.