Do Good. Tell Stories. Be Mindful.


I am a writer of people and places. I write personality profiles in Q&As or long-form narratives. I also write the blog A Mile a Minute.blog about mental health. I try to find the meaning of life in each person I write about. I have covered authors, politicians, newscasters, poets, scientists, foodies, bloggers, researchers, professors, artists, actors over the course of my career. In addition to journalism, I write for corporate and non-profit web sites, annual reports, and social media. I am currently working on a survival guide for college students with mental illness.


​Author. Mental Health Advocate. Journalist.

​​Publication credits include: Shore Line Times in Madison, CT, the Hartford Business Journal, the Hartford Courant, the Hartford Advocate, Conscious Choice magazine,
Windy City Times, Inside Publications, ReelChicago.com, CTNewsJunkie.com, the Monadnock Ledger in Peterborough, NH, Fresh Yarn, the Chicago Tribune, blogger for the International Bipolar Foundation, blogger for the Mark Twain House and Museum, We-Ha.com
Writing is about finding meaning and truth in each person or place. It's about taking your natural curiosity and turning it into an obsession. It's about style, language, drive, and persistence. It's about coffee…and tea of course. Lots of it! Writing is about seeing and living in the present moment. Too often, we are not really present in our lives. As Virginia Woolf wrote, we live in a "cottonwool society." We wear cotton gazes through the daily chores of life. I'll help you to be more present in yours.

I am available to give writing workshops for teens and adults. I have taught workshops on blogging, memoir, and journaling to find your story.


I love…

tea, the poetry of David Whyte, Mary Oliver, Emily Dickinson, Rumi, eastern philosophy

Brooklyn, NY, Chicago, Boston, London, Seattle, Key West, Waikiki Beach

the smell of coffee, fresh cut grass, lavender, sage

photography, running, yoga, meditation, journals, introspection

My typology is INFP and I am a Highly Sensitive Person (HSP)




---
Powered by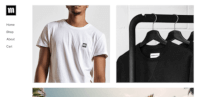 Create your own unique website with customizable templates.